I've just returned from my semi-annual pilgrimage to New Mexico where my husband and I study with our teacher, Martín Prechtel, at his amazing school, Bolad's Kitchen.
Every morning we listened to fantastic music from all over the world – from Finland to Sudan to Uzbekistan.
In honor of the great, beating, courageous hearts of all peoples, all plants, all animals, all rocks, winds, soils and waters, we've been dancing all week to this playlist – hot off the press from Bolad's Kitchen.
On the plane back home, I went through all my new CDs and measured the tempo – or what in Nia we call the 8BC time – for each song.  Then I plugged those songs into choreography from an existing Nia routine, Opal, and voilà!  A new routine is born.
Here's the rockin' play list:
Koro Koni by Rail Band  - Album:  Belle Epoque Vol. 2: Mansa 
Diby by Rail Band  – Album: Belle Epoque Vol. 3: Dioba 
Biriya by Mory Kanté – Album: Sabou 
Chatma by Tinariwen – Album: Amassakoul
Konowale by Rail Band  – Album: Belle Epoque 2: Mansa
Madan by Salif Keita – Album: Moffou
Im Nin'alu by Eliyahu Sills and Qadim – Album: Eastern Wind
Adolat Tanovari  by Sevara Nazarkhan – Album: Yol Bolsin 
Soixante Trois by Tinariwen – Album: Aman Iman: Water Is Life
Assoul by Tinariwen  – Album: Amassakoul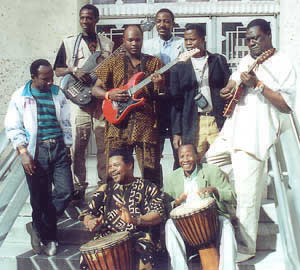 Rail Band built its fame upon the mid-20th century craze for Latin and Cuban jazz which came out of Congo in the 1940s.  Their amaing sound stems from the Mande Griot praise singer tradition, Bambara and other Malian and Guinean musical traditions that, as distinct castes, were not allowed to play music together. At their height of fame in the 1970s, the Rail Band played to sold out venues across West Africa, and launched solo careers for many of its members, including the legendary vocalists Salif Keita and Mory Kanté.
Listen to Rail Band play Konowale here.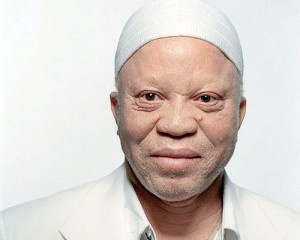 Salif Keita is an afro-pop singer-songwriter from Mali. He's known as the "Golden Voice of Africa," has albinism and is a direct descendant of the founder of the Mali Empire, Sundiata Keita. His royal heritage means that under the caste system, he should never have become a singer, which was deemed to be a griot's (bard's) role. Fortunately  for us, Salif's vision and destiny was otherwise.
Listen to Salif Keita sing Madan here.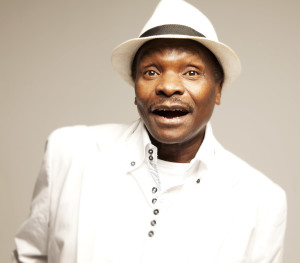 Mory Kanté is a vocalist and player of the kora harp, born in Kissidougou into one of Guinea's best known families of hereditary griot oral tradition storytellers and musicians. He was sent to Mali at the age of seven – where he learned to play the kora, as well as important voice traditions necessary to become a griot.
Listen to a medley of songs and as well as an interview en français with Mory Kanté here.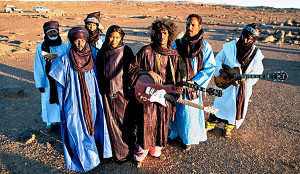 Tinariwen, meaning "deserts," is a band of Tuareg Nomads from the Sahara Desert region of northern Mali who fell in love with the electric guitar.  The roots of the guitar, the banjo and the blues are in back-and-forth slave trade between Africa and the Americas. The band was formed in 1979 in Tamanrasset, Algeria, but returned to Mali after a cease-fire in the 1990s.  Ashland has been blessed with several Tinariwen concerts over the years.
Listen to Tinariwen play Assoul here.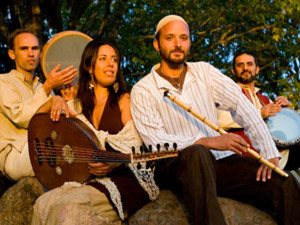 The Qadim Ensemble plays sacred and folkloric music of the Near East.  Qadim is a word found in both Arabic and Hebrew meaning "ancient" as well as "that which will come."  Their repertoire includes Arabic, Jewish, Turkish Sufi, Hebrew-Yemenite, Armenian, Greek, Ladino and Moroccan music, celebrating common musical and spiritual heritage while honoring great diversity.  We've been honored to have Qadim play here in Ashland at Havurah Shir Hadash.
Listen to Qadim play Im Nin'alu here.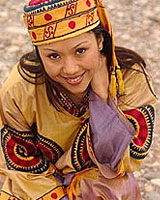 Sevara Nazarkhan from Uzbekistan plays the dotar – a two-stringed, Central Asian lute that is plucked not strummed. Nomadically, dotar strings were made from animal intestines. As the Silk Route became established and the dried fruits and animal skins that Marco Polo carried were traded for gems and Chinese porcelain, the strings were woven from silk.
Listen to Sevara's beautiful song, Adolat Tanovari (Song of Adolat) here.